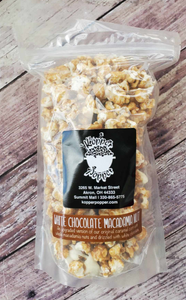 White Chocolate Macadamia Nut popcorn can be shipped directly to you or picked up in store at our Summit Mall Location. Order today, this flavor is available for a limited time only!
An upgraded version of our original caramel corn with whole macadamia nuts and drizzled with white chocolate. 
Bag Information: Size - 7"x4"x11.2"  Weight - Approx. 10 oz.; Bags are heat sealed and will stay fresh for up to 6 weeks.